June 15, 2021
Make your Brand a 2021 Digital Powerhouse in 5 easy steps?
Introduction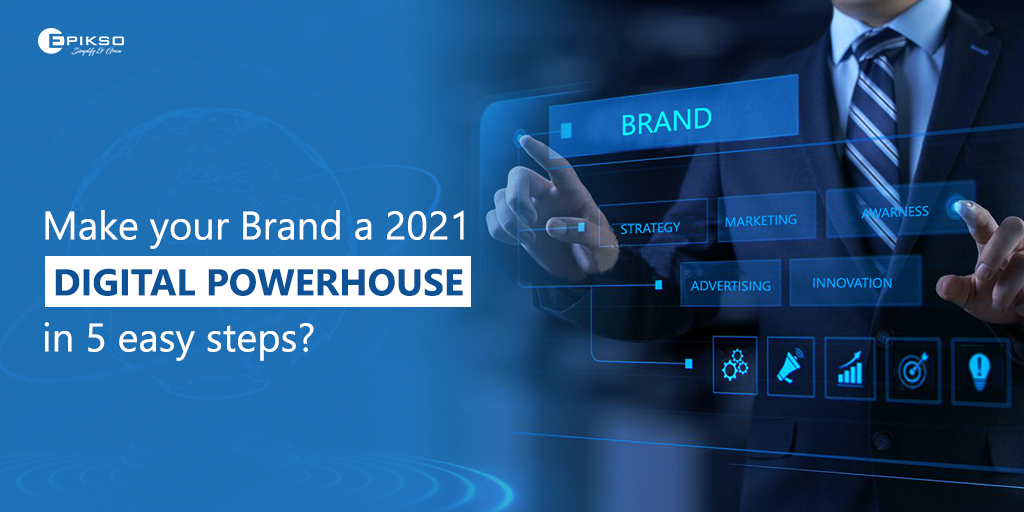 The years 2020 and 2021 have seen several brands falter in their marketing. Some blame it on the global economy in the pandemic era and the lack of resources. Others have pointed their fingers towards the divided customer attention, with customers being more worried about their health, businesses have taken a financial hit.
We would love to say that it all gets easy from here, but we all know that things will not. Even when the current conditions subside worldwide, brands will try to compete for customer attention frantically. And more likely than not, your message will get lost in all the noise.
That is why we believe that the current climate is not a challenge but an opportunity. This is the perfect time to build customer relations and increase your brand presence with digital enablement services designed to work in 2021.
Build a solution designed and developed to attract customers
Over 75% of customers have experimented with a different shopping experience during the crisis. ~ McKinsey Survey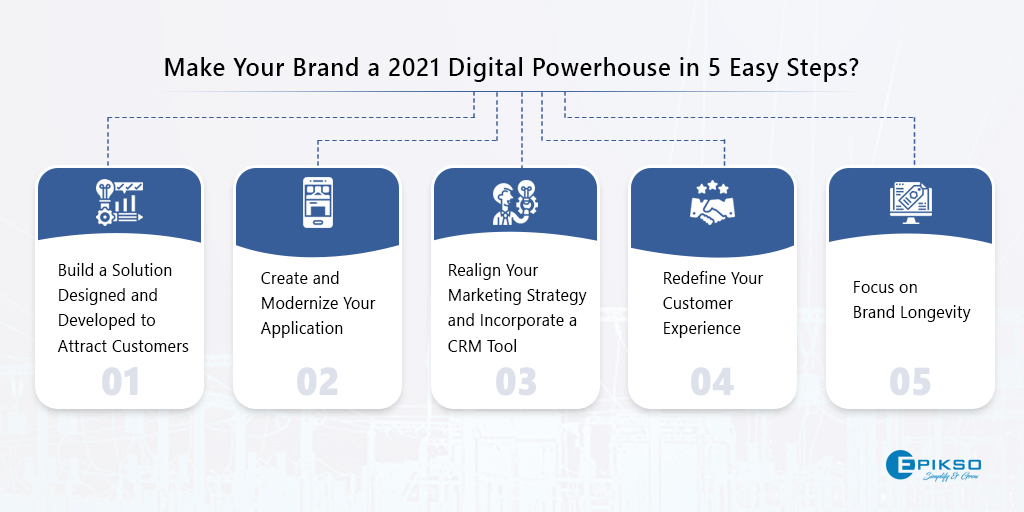 Customers are beginning to find their new normal in this disruptive era, but companies are still scrambling to prove their success during this tumultuous time. That fact is that strategies that worked in 2019 do not work in 2021. Consumers had radically changed their purchasing behavior when switching to their digital mediums because of social distancing orders. And now it is no surprise that buyers no longer view in-store shopping as a leisurely way to pass the time.
To move with the customers, brands need to adapt to a new virtual first standard. To attract new buyers and retain your old customers, you need to increase your digital presence. The easiest way to do that is by increasing your brand's ranking on Google so that buyers may easily find your products and shift from their usual buying behavior to try your brand.
Create and modernize your application
An estimated 7.4 million new buyers have shifted to digital mediums this year. ~ SEMRUSH
With so many customers shifting to purchasing their goods online, brands must meet customers where they are. Customers might browse the internet to find a new brand, but according to a survey conducted by Statista, 31% prefer an app while regularly shopping from a brand.
Modernizing your application can also provide a company with a channel to completely control the customer's shopping experience. It allows them to provide the visitor with offers they might be interested in, products that they might be looking for based on customer insights, and additional functionalities like 'On my way' functionality to track their goods and delivery times. These new functions make the customer's buying experience more pleasurable and compel them to order again from your brand.
Realign marketing campaigns and incorporate a CRM tool
30% of US internet users plan to reduce their visits to retail outlets.
According to the pressing demands, businesses who want to be successful in 2021 must realign their existing marketing strategies. Companies should immediately switch to OmniChannel marketing and create personalized interactions with their customers. Brands also need to understand that shoppers today have limited resources at hand, and they will need to fight for each dollar the customer spends.
To make sales, brands must provide monetary value to their customers and create a brand management strategy that reflects the new normal. To provide this new approach, brands must incorporate a well-rounded CRM tool. These tools will help you research your competitors and their approach with advanced analytics and provide you with actionable insights that will help you realign your marketing campaigns to strategies that work.
Redefine your customer experience
From early 2020 there has been an increase of 60% in consumed content.
Brands previously measured their success by foot traffic and the number of transactions they could do an-site a physical store. Today companies need to do the same online. To create online traffic, they need to use all the tools in their arsenal to make a more intuitive branding approach. For example, before the pandemic, health brands like Gold's Gym focussed on keeping their patrons fit using social media. They did this by providing them with pictures and new knowledge. However, because of the prevailing conditions, customers can not put this new knowledge to the test.
Therefore, brands must approach their branding more intuitively. They need to put themselves in their customer's shoes. Health brands needed to gracefully transition from fit to healthy to combat the conditions and highlight their brand's strength with products that customers could purchase online and work out routines that their patrons could easily perform at home.
Focus on brand longevity
89% of customers have vowed to maintain their changed habits after the dust settles. ~ Reach 3
Leading brands have been shifting their KPIs from sales to brand longevity models following the examples of the automotive industry. Auto manufacturers realized that their customers were plagued by ongoing concerns about their health and the state of the economy, rendering them relatively risk-averse and worried. Responding to that, they started promoting offerings such as 0% financing, a 120-day delay on first payment, and delivery at home.
Alongside the above-stated offers that also shifted their messaging to make their customers feel confident and secure about their new purchases. They also provided their customers with tips and helpful advice to keep their cars, trucks, bikes, etc., in peak conditions while stored in garages. Your brand needs to create a similar strategy because when the conditions revert to normal, customers will not go back to the companies they trusted before but would prefer to shop at the brands they have a relationship with.
Conclusion
Brands have a year or two of discoveries ahead. Companies will need to reevaluate how long- and short-term goals define success in the wake of this universal change in consumer purchasing behavior. They will need a partner to help them navigate through these unprecedented circumstances. We at Epik Solution are happy to help you and provide you with our services and solutions that your brand needs.
Feel free to contact us if you need some free advice or discuss anything out of this post. Just give us a call at +1-925-444-0466 or mail us at contact@epikso.com, and we will be happy to help.