May 28, 2021
How are leading solar companies using AI-driven operations management to improve efficiency?
Introduction
SEIA, the solar energy industries association, recently stated that the U.S. solar industry grew by 43% and installed a record 19.2 gigawatts (GWdc) of capacity in 2020. As a matter of fact, for the second year in a row, solar has led all technologies in new electric-generating capacity. The companies that were ahead of this trend and embracing operational efficiency before 2021 are already seeing their engineering, procurement, and construction departments assimilate into one efficient entity and powering their growth.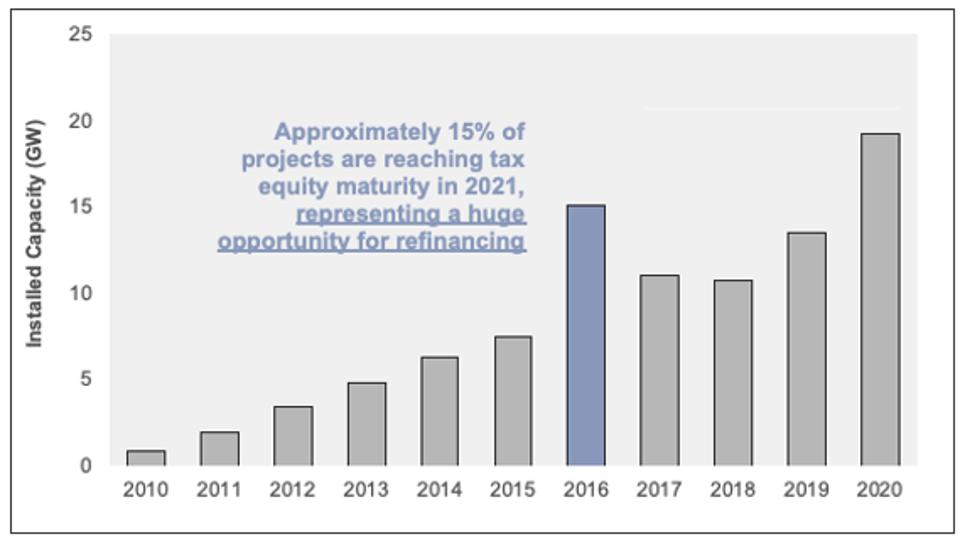 Moreover, a survey by kWh Analytics found that 85% of the leading lenders in solar said that little to none of their business came from refinancing in 2020, laying the foundation for a refinancing boom in 2021. This boom will see the rise in more solar purchases by residential customers, upgrading to renewables, and businesses who want to avoid disruptions to their operations because of rolling blackouts and other issues.
To meet this demand, companies will need to invest in AI-Driven Operations Management and become more efficient and optimize the time of their skilled professionals.
What is AI-Driven Solar Operations Management System?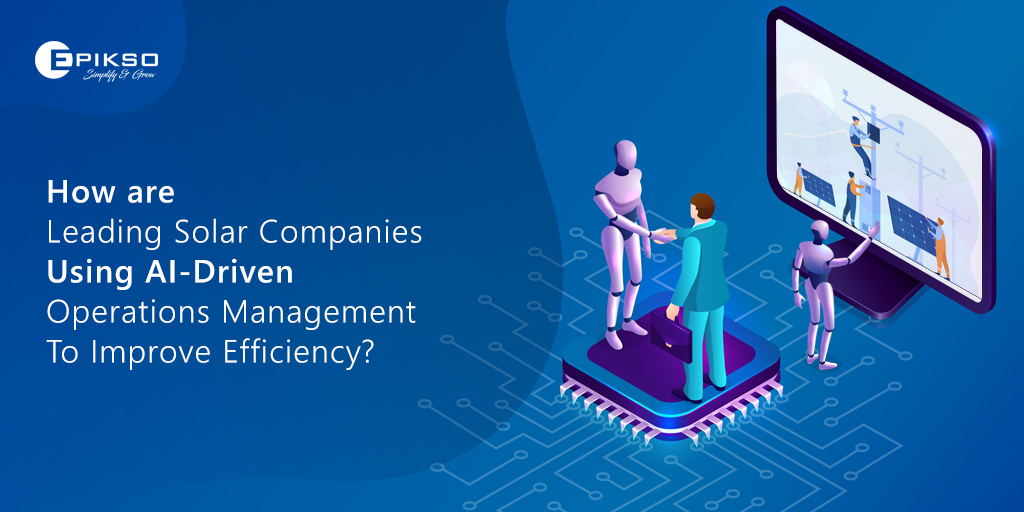 An AI-driven operations management system helps solar companies manage their cases from inquiries to procurement to solar installations. These systems also help energy companies build solar installations, supply parts to their customers, manage insurance policies, assist in multiple compliance requirements and manage environmental policies. Moreover, they can also help their employees maintain health & safety standards, assist in equipment procurement, increase sales, manage financial operations, improve corporate performances, and manage other obligations.
The six stages of automating solar workflows for operational efficiency.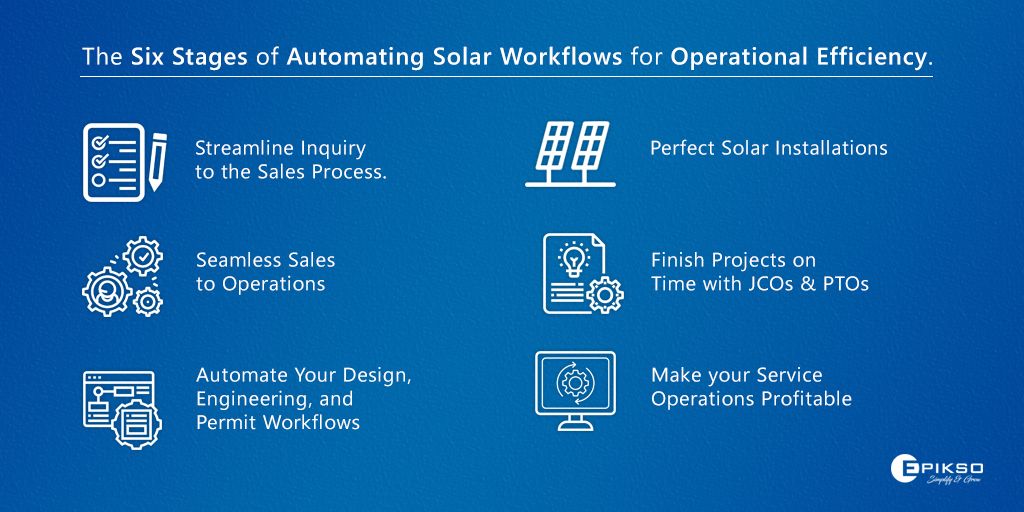 1. Streamline inquiry to the sales process
One of the challenges solar energy businesses face in making their operations flawless can be solved by involving the customer from the very start. However, to solve this challenge, your energy company must build a unique customer experience that delights the end user. To this effect, they need to implement an organizational solution dedicated to improving their sales process by giving a customer a personalized experience from the first inquiry to the final sales. Unfortunately, this can be hard in 2021 because of the shortage of skilled talent due to the current Covid restrictions. AI-driven operations management can help you smooth out every sales opportunity by bridging gaps to intake contracts, data & docs seamlessly and turning obstacles into a cost savings growth opportunity.
2. Seamless sales to operations
Smooth out your initial operations by empowering your customers with an easy builder form to lay out their requirements, approximate measurements, pictures, and questions. Then ensure operational efficiency by letting the AI automatically schedule a site visit to spot any onsite conflicts and bring your office and onsite team together to work out any corrective measures that might be needed. This process will ensure that your design teams get the exact information with verified pictures and measurements the first time.
3. Automate your design, engineering, and permit workflows
Assign tasks and make doing them easy by cutting down on wait times and providing a clear description to your design and engineering teams with attachments of needed documents, pictures, and exact markups along with customer preferences. Help your permit team gather the required documents from the design and engineering in one place to submit for government permits and automatically schedule a notification to follow up on the status of your applications.
4. Perfect solar installations
To build solar installations on time and without additional challenges, your energy company can use the drag-and-drop features to build custom workflows according to the site survey. This helps reduce the need for multiple site visits of field personnel by ensuring that all critical information is provided to the installation team and all tools are brought to the site the first time. Additionally, you may use the AI-driven operations management full capabilities to ensure your teams in the field and office are notified about a task's completion in real-time. These notifications can help your teams to seamlessly shift to the next task with all the critical information to deliver your product on time.
5. Finish Projects on time with JCOs & PTOs
Automatically notify your managers with a notification about a successful installation and schedule a managerial inspection along with job closeout forms. Help your team schedule an onsite visit, if needed, from the government body and the power company to speed up the permission to operate by ensuring all the tasks are done. And their corresponding data is submitted to the corresponding parties before the due date.
6. Make your service operations profitable
Use the advanced task filters on your AI-driven operation management app to create service operations task lists per client, lead person, and other parameters. Then, use the integrated calendar to schedule service visits, add work orders easily to replace broken parts by just clicking a button, or automate preventative maintenance tickets on time slots and avoid the hassle of manual scheduling and field execution.
Conclusion
Epik Solution's operational efficiency system is the leading business visibility tool for providers of solar solutions. We have helped multiple solar energy providers with their project management, data management, and workflow automation. Our AI-driven operation management is helping the solar industry connect with its customers in a meaningful way and execute thousands of projects & maintenance tasks. We are already helping close to ten renewable energy manufacturers increase their efficiency and their capacity for growth.
With our efforts, our clients have already saved upwards of 50 hours per project and achieved a 25-30X return on investment with us. If you want to give our solution a try, please call +1-925-444-0466 or write to us at contact@epikso.com. We will be happy to answer all your questions.